---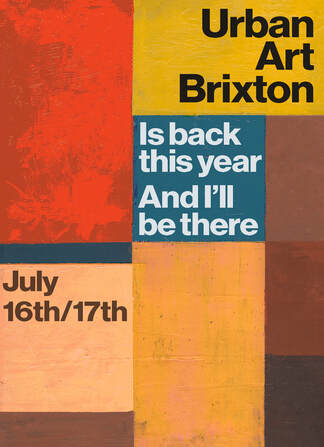 Yes, it's back. Despite the best efforts of Lambeth's LTN scheme, it's back. And I will indeed be there. I hope to be in several other places before then of course but this is definite. I will also be at Camberwell Arts Market on June 4th. And don't forget there are still three photographs on show and available to buy at Butter Up Cafe, SE27 in the meantime.
---
​To say I am self taught would be to imply that I've learned something...
Improviser would be more accurate. Inspired by the walls, ghost signs, layers, redactions and textures of my
photographs
. My "
painting
" (I have recently started adding other media into the works on canvas) is mostly spontaneous. I am now more likely to get my art supplies from a hardware store than an artists supplies. I rarely use sketchbooks and mostly capture ideas as notes to maintain that spontaneity. I also work digitally and of late that has been focused on creating geometric
abstract prints
. In an ideal world the photography, digital work and mixed media will one day come together as something that is completely me. While I'm getting there, take a look around...
---
Current Exhibitions/Events
Butter Up Cafe​, Tulse Hill, London SE27, February 2022 onwards
​
Forthcoming Exhibitions/Events
Camberwelll Arts Market, Camberwell Green SE5 - June 4th
​Urban Art Brixton, Josephine Avenue SW2 - July 16th/17th 2022
Past Exhibitions/Events
Hang Your Pixels Even Hype, Amsterdam 2006
Four Untitled Images; Photocopy Club, Beach Gallery, London 2011
Untamed, Mercedes-Benz, Paris 2013
Kraftwerk Have Left The Building, Bleeding London, City Hall, London 2015
Abstract Water, Breathing London, Embassy of Croatia, London 2017
In the Studio: Art by MoMA's Online Learning Community (group slideshow) - MoMA, New York 2018​
London Calling: Photocopy Club, V3 Gallery, London 2018
Brixton Summer Art Show 2019, Brixton Library, 2019
Urban Art Brixton July 6th/7th 2019
Steve Wilde: Random Features [Solo Show] - The Great North Wood, London Oct - Nov 2019
Outsider Arts Festival, Deal Castle, Kent - Nov 2019
Urban Art Brixton [virtual event] July 4th/5th 2020
Townhouse Open, Spitalfields, London, September - October 2020
Brixton Winter Art Show 2020, Brixton Library, December 2020 [Online due to Covid restrictions]
Urban Art Brixton [virtual event] July 3rd/4th 2021
Brixton Summer Exhibition, Brixton Library. July 5th - 19th 2021
Townhouse Open, Spitalfields, London, July 10th - September 12th 2021
Camberwell Arts Market, Burgess Business Park, London SE5. September 25th 2021
Citizens Art Market, Ebury Edge, London SW1 - October 23rd
Group Show with
Marie Lenclos
and
Martin Grover
, Curious Kudu, London SE15. 3rd-28th November 2021
Camberwell Winter Arts Market, Camberwell Green, London SE5, 27th November
​The Print Shop, Brixton Artists Circle, 151 Stockwell Road, London SW9 9FX, December3rd - 5th
Small Is Beautiful [group show], Woodfield Pavilion, London SW16, Feb - March 2022​
Print It 2022, Aire Place Studios, Leeds, April 4th-8th 2022​

Commissions
Hot Coals, commissioned by Chris Corbin for Kudu Grill, Nunhead
Publications
Digitalia Blurb Books 2008
Random Features Blurb Books 2010
Mostly Devoid of Colour Blurb Books 2015
Digby The Big Bee Blurb Books 2017
Artefacts Blurb Books 2017
Books Available From Blurb
My Photographs have been featured by the following:
The Londonist
Schmap.com
Radiolab WNYC
Eyes of the World Media Group
Travel Professional Magazine
Liquid Luck Productions
Whitechapel AM
Antiquarian Horological Society
European Graduate School
GPSmyCity
Cent Magazine
Castlestories.net
India Boating
French Property Centre
Trinity College, Dublin